Our Process
ERW PRODUCTION
GALVANIZING (Blowing System)
This blowing system is an adapted Japanese technology and one of the newest methods of galvanization. The steps are as follows:
Metal Preparation
The pipes go through the process of pickling, degreasing, and fluxing in preparation for the dipping process.
Pre-dipping Phase
Dipping
The pipes are immersed into a tank of molten zinc.
Auto Pick-up Device
Also called as the post-dipping procedure.
Air Wipe System
This process ensures the zinc coating to be evenly spread on each pipes' surfaces.
Steam Blowing System
This system blows our internal zinc excesses.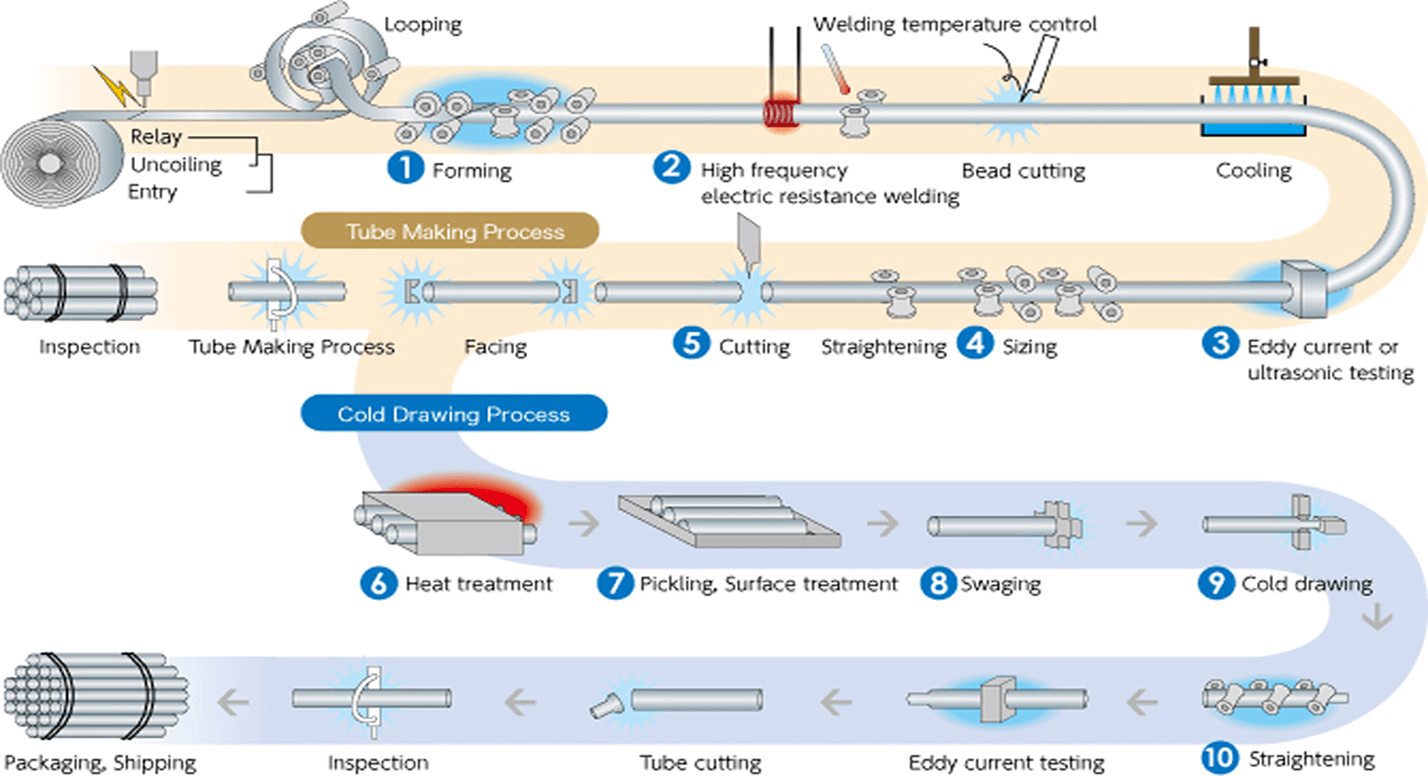 Application
INDUSTRIAL
Agriculture & Irrigation
Automobile Industry
Bearing Casing
Collieries for extraction of water
Thermal power and Transport
Communication Tower
High Temperature and Pressure
Manufacturing Processes & storage
Pumps & Cable Protection
(Electrical & Telecommunications)
Shipping Industry
Steel Palettes
ARCHITECTURAL
Aesthetic & design function materials
Carving and Sculpture
Dome and other aesthetic construction
LIQUID & GAS
Exhaust Tubing
Petroluem line, Oil Refinery Equipment
Residential and Office water lines
SANITARY
Sewage & Excretory Lines
STRUCTURAL APPLICATIONS
Concrete Piling Casing, Pipe Casing
Scaffholding
Steel Pole, Pole Signage, Fencing, Handrails
SAFETY & RECREATION
Fire Alarm, Springkles System
Golf Course & other landscape
Underground
Sprinkler pipes
Playground Equipment
Markings
To distinguish genuine Supreme, Superior, and Tri-r pipes, see below markings for authenticity.